Jaume Plensa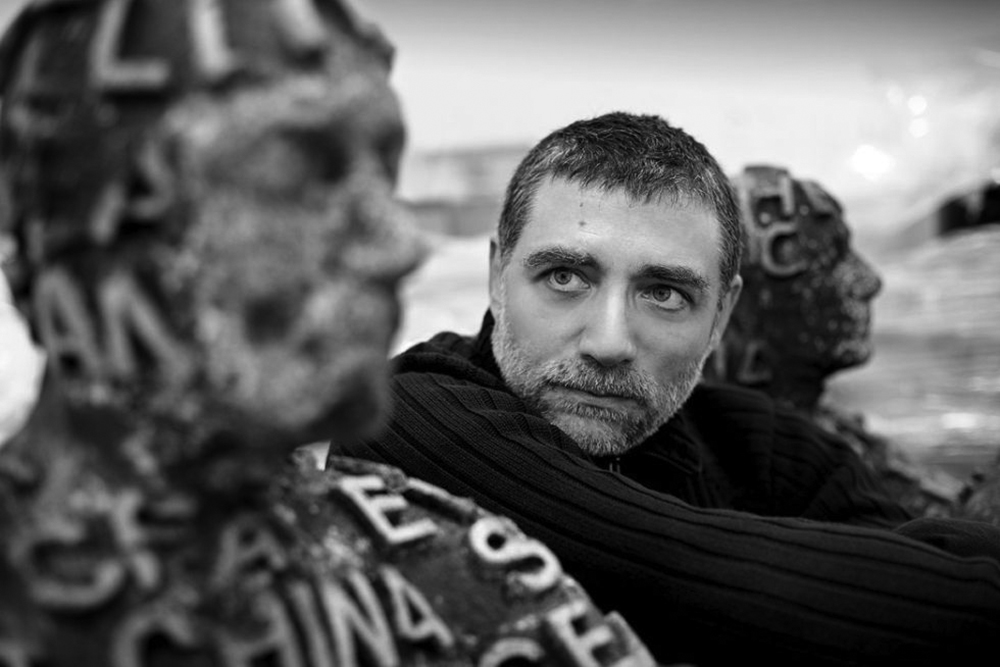 Jaume Plensa was born in 1955 in Barcelona, Spain.
Works and lives in Barcelona, Spain. This sculptor from Barcelona presents a work of friendly confrontations: among dark and light; between the imprints of the past and the opening towards the future; between natural formations and man's creation, and between the immensity of noise and the most intimate realms of silence. In addition to being one of the leading exponents of the current sculpture scene, Jaume Plensa is internationally known for his dedication to art in public spaces. The sculptor calls the need to decompose reality and affirm nature in order to fulfill a purpose: "to reintroduce beauty to society".
Available works
Please contact us for more information about the works displayed, the availability of works may vary.
Request info
2022
Chaque visage est un lieu, Musée d'art moderne de Céret, France
Jaume Plensa Château Sainte Roseline, Sainte Roseline, Les Arcs, France
Jaume Plensa Museu Oscar Niemeyer, Curitiba, Brazil
Dessins Musée Picasso, Antibes, France
Noir & Blanc Galerie Lelong & Co. Paris, France
In small places, close to home, Yorkshire Sculpture Park Chapel and The Weston Gallery, Wakefield, United Kingdom
2021
NEST Galerie Lelong & Co., New York, United States
SLOWNESS Galleri Andersson/Sandström, Stockholm, Sweden
The True Portrait Galerie Lelong & Co., Paris
2020
La Llarga Nit Galeria Senda, Barcelona, Spain
Nocturne Gray Warehouse, Chicago, Illinois, USA
Jaume Plensa Plaza del Estadio de la Cerámica, Villarreal, Castellón, Spain
Jaume Plensa, Invisibles Gray Gallery, Chicago, viewing room (online show)
Jaume Plensa Galerie Lelong & Co., Paris (online show)
Jaume Plensa: April is the cruelest month Galerie Lelong & Co., New York, viewing room (online show)
2019
Jaume Plensa. Jakobshallen Galerie Scheffel, Bad Homburg, Germany
Jaume Plensa Plaça del Congrés Eucarístic, Elche, Alicante, Spain
Behind the Walls / Detrás del Muro Instituto Nacional de Bellas Artes y Literatura in collaboration with Fundación Callia, Ciudad de Mexico
Jaume Plensa Galerie Lelong & Co., Paris, France
Talking Continents Arthur Ross Gallery at the University of Pennsylvania, Philadelphia, Pennsylvania, USA
Jaume Plensa MMOMA–Moscow Museum of Modern Art, Moscow, Russia
Jaume Plensa Ciutat de les Arts i les Ciències, Valencia, Spain
Jaume Plensa Museum Beelden aan Zee, The Hague, Netherlands
Jaume Plensa a Montserrat Museu de Montserrat, Abadia de Montserrat, Barcelona, Spain
Talking Continents Telfair Museums, Jepson Center for the Arts, Savannah, Georgia, USA
Jaume Plensa Galería Pilar Serra, Madrid, Spain
Jaume Plensa, Nouvelles estampes Galerie Lelong & Co., Paris, France
2018
Jaume Plensa Museum of Contemporary Art Barcelona, MACBA, Spain
Invisibles Palacio de Cristal, El Retiro, organized by Reina Sofía Museum of Art, Madrid, Spain
La Música Gráfica de Jaume Plensa. Museo del Grabado Español Contemporáneo, Marbella, Spain
Jaume Plensa at Djurgården. Djurgården, Stockholm. Organized by Galleri Andersson/Sandström, Sweden
2017
Talking Continents. Madison Museum of Contemporary Art, Madison, Wisconsin, USA
Secret Garden. Gray Warehouse, Chicago, Illinois, USA
One Thought Fills Immensity. Richard Gray Gallery, Chicago, Illinois, USA
Nocturne, Estampes 2015-2016. Galerie Lelong & Co., Paris, France
Jaume Plensa Musée d'art moderne et contemporain Saint-Étienne Métropole, Saint-Étienne,
Silence. Galerie Lelong & Co., New York, USA
2016
El Bosc Blanc. Galeria Senda, Barcelona, Spain
Die innere Sicht Max Ernst Museum Brül des LVR. Bruhl, Germany
Human Landscape The Toledo Museum of Art, Toledo, Ohio
Human Landscape Tampa Museum of Art, Tampa, Florida
Jaume Plensa Palau de la Música Catalana, Barcelona
La Forêt Blance Galerie Lelong, Paris, France
2015
Jaume Plensa, Matriz y Múltiples Museo Casa de la Moneda, Madrid, Spain
Silent Faces Haines Gallery, San Francisco, USA
Le silence de la pensée Mu´see de l'art moderne de Céret, Céret, France
Human Landscape The Frist Center for Visual Arts, Nashville, Tennessee
Human Landscape Cheekwood Botanical Garden & Museum of Art, Nashville, Tennessee
Together Collateral Event of the 56th International Venice Biennale, Basilica di San Giorgio Maggiore and Officina dell'Arte Spirituale, Isola di San Giorgio Maggiore, Venice
Jaume Plensa, New Works Galleri Andersson/Sandström, Stockholm, Sweden
2014
Jaume Plensa, Sculptures and Drawings Van Every / Smith Galleries. Davidson College. Davidson North Carolina
1004 Portraits 10th Anniversary of the Crown Fountain
Private Dreams Richard Gray Gallery, Chicago, USA
The Secret Heart Gaskessel / Schaezlerpalais / H2 Zentrum fur Gegenwartkunst im Glaspalast, Augsburg, Germany
Jaume Plensa, Skulpturen Skupturepark Waldfrieden. Wuppertal, Germany
Jaume Plensa,una trayectoria. Premio Nacional de Arte Gráfico 2013 Calcografía Nacional - Real Academia de Bellas Artes, San Fernando, Madrid
2013
Talking Continents Galerie Lelong, New York, New York, USA
Jaume Plensa à Bordeaux City of Bordeaux, France
Jaume Plensa. Éditions 2012-2013 Galerie Lelong, Paris, France
2012
In the Midst of Dreams EMMA-Espoo Museum of Modern Art, Helsinki, Finland
Eight Poets in Bamberg City of Bamberg, Germany
Umedalen Skuptur Umea, Sweden
Silhouettes Galerie Lelong Paris, France
2011
The Hermit Richard Gray Gallery. Chicago, USA
Echo, Mad. Sq. Art. 2011 Madison Square Park, New York, USA
AnoNYmous Galerie Lelong, New York, USA
Jaume Plensa Yorkshire Sculpture Park, Wakefield, UK
2010
The Heart of Trees Nasher Museum of Art at Duke University, Durham, USA
Cantique des Cantiques Galerie Alice Pauli, Lausanne, Switzerland
Around Shadows Galerie Scheffel, Bad Homburg, Germany
Alphabets de l'âme Galerie Lelong, Paris, france
L'Ame des Mots Musée Picasso, Antibes, France
Jaume Plensa, obra sobre papel Galeria Estiarte, Madrid, Spain
Genus and Species Nasher Sculpture Center, Dallas, USA
2009
Jerusalem Espacio Cultural El Tanque, Tenerife, Canary Islands
Triptych Mario Mauroner Contemporary Art, Viena Austria
In the Midst of Dreams Galerie Lelong, New York
Jaume Plensa Galerie Toni Tápies, Barcelona, Spain
Slumberland Galerie Lelong, Paris, France
Silent Music Diehl + Gallery One, Moscow, Russia
2008
Jaume Plensa Mimmo Scognamiglio Artecontemporanea
Jaume Plensa Centro de Arte Caja de Burgos, Burgos, Spain
Jaume Plensa Frederik Meijer Gardens & Sculpture Park, Grand Rapids, Michigan, USA
Jaume Plensa La Riva de Acheronte. Im Dialog IX. Stadkirche, Darmstadt, Germany
Jaume Plensa, Save our Souls Albion Gallery, London, UK
2007
Jaume Plensa IVAM - Institut Valencià d'Art Modern, Valencia, Spain
Jaume Plensa MAMAC, Musée d'Art Moderne et d'Art Contemporain, Nice, France
Nomade, Bastion Saint-Jaume Quaid Rambaud, Organized by Musée Picasso, Antibes, France
Silent Voices Museum at Tamada Projects, Tokyo, Japan
Sinónimos Círculo de Bellas Artes, Madrid, Spain
2006
I in his eyes as one that found peace Richard Gray Gallery, Chicago / New York, USA
Une âme, deux corps...trois ombres Galerie Lelong, Paris, France
Jerusalem Musue d'Art Modern i Contemporani Es Baluard, L'Aljub, Palma de Mallorca, Spain
Canetti's Dream Mario Mauroner Contemporary Art, Vienna, Austria
Songs and Shadows Galerie Lelong, New York, USA
Jaume Plensa. Livres, estampes et multiples sur papier 1978 - 2006 Centre de la Gravure La Louvière. La Louvière / Fundació Pilar i Joan Miró. Palma de Mallorca, Spain
2005
Jaume Plensa CAC Málaga, Centro de Arte Contemporáneo, Málaga, Spain
Is art something in between? Kunsthalle Mannheim, Mannheim, Germany
13 doubts English Church - Galerie Scheffel, Bad Homburg, Germany
Song of Songs Albion Gallery, London, UK
Glückauf? Lehmbruck Museum, Duisburg, Germany
Jaume Plensa Ópera, teatro y amigos. Museo Colecciones ICO, Madrid, Spain
2004
Anònim Galería Toni Tàpies, Barcelona, SPain
Jaume Plensa Galeria Gentili-Villa il Tasso, Montecantini, Italy
Jaume Plensa. Livres, estampes, et multiples sur papier 1978 - 2003 Musée des Beaux Arts, Caen, F / Fundación César Manrique, Lanzarote, Spain
Il suono del sangue parla la stessa VOLUME!, Roma, Italy
Fiumi e cenere Palazzo delle Papéese, Siena, Italy
Silent Noise The Arts Club of Chicago, Chicago / Contemporary Arts Center, New Orleans / University Gallery - Fine Arts Center UMASS, Amherst, USA
2003
Crystal Rain Galerie Lelong, Paris, France
Jaume Plensa Galerie Academia, Salzburg, Austria
Who? Why? Galerie Lelong, New York, USA
Hot? Sex? Univerisdad de Sevilla, Sevilla, Spain
2002
Rumor Centro Cultural de España, México D.F., Mexico
Wispern Església de Sant Domingo, Pollença, Mallorca, Spain
B. OPEN, Jaume Plensa The Baltic Centre for Contemporary Art, Gateshead, UK
Jaume Plensa Fondation Européenne pour la Sculpture, Parc Tournay-Solvar, Bruxelles, Belgium
Primary Thoughts Galería Helga de Alvear, Madrid, Spain
2001
Close up Mestna Galerija, Ljubljana, Slovenia
Logbook Galerie Diehl-Vorderwuelbecke, Berlin, Germany
Europa Galerie Toni Tàpies, Barcelona, Spain
2000
Twin shadows Richard Gray Gallery, New York, USA
Twin shadows Galerie Lelong, New York, USA
Jaume Plensa, Proverbs of Hell Mairo Mauroner Contemporary Art, Salzburg, Austria
Jaume Plensa, 360 º Museo Municipal de Málaga, Málaga, Spain
Chaos - Saliva Palacio de Velázquez - Museo Nacional Centro de Arte Reina Sofía, Madrid, Spain
1999
Etwas von mir Kunsthalle zu Kiel., Kiel, Germany
Jaume Plensa Tamada Projects Corporation, Tokyo, Japan
Bruit Galerie Daniel Templon, Paris, France
Komm mit, komm mit! Rupertinum Museum, Salzburg, Austria
Whisper Richard Gray Gallery, Chicago, USA
Jaume Plensa Galería Toni Tápies
Wanderers Nachtlied Museum Moderner Kunst Stiftung Ludwig, Palais Liechtenstein, Vienna, Austria
Love Sounds Kestner Gesellschaft, Hannover, Germany
1998
Jaume Plensa Galleria d'Arte Moderna e Contemporanea - Palazzo Forti, Verona, Italy
Dallas?...Caracas? Fundación Museo Jacobo Borges, Caracas, Venezuela
Dallas?...Caracas? The MAC - The McKinney Avenue Contemporary: Dallas, USA
Golden Sigh Galerie Alice Pauli, Lausanne, Switzerland
Jaume Plensa Galerie Pièce Unique, Paris, France
Water Fonds Régional d'Art Contemporain de Picardie, Amiens, France
1997
Wie ein Hauch Galerie Volker Diehl
Jaume Plensa Städtische Kuntshalle Mannheim, Germany
Jaume Plensa Malmö Konsthall, Malmö, Sweden
Rumore Fattoria di Celle, Santomato di Pistoia, Italy
Jaume Plensa Galerie Nationale du Jeu de Paume, Paris, France
1996
Jaume Plensa Fundació Joan Miró, Barcelona, Spain
Blake in Gateshead Baltic Flour Mills, Gateshead, UK
Close up Office in Tel Aviv, Tel Aviv, Israel
Islands Richard Gray Gallery, Chicago, USA
Jaume Plensa Centre de Cultura Sa Nostra, Palma de Mallorca, Spain
1995
Wonderland Galerie Daniel Templon, Paris, France
One thought fills immensity Städtische Galerie, Göppingen, Germany
1994
Cal·ligrafies Ediciones T Galeria d'Art
Jaume Plensa Un Sculpteure, une Ville, Valence, France
Jaume Plensa Galleria Civica Modena, Modena, Italy
The Miraculous Fountain The Henry Moore Studio at Dean Clough, Halifax, Canada
1993
Jaume Plensa Galerie Volker Diehl, Berlin, Germany
Mémoires Jumelles Galerie Alice Pauli, Lausanne, Switzerland
Mémoires Jumelles Galerie de France, Paris, France
1992
Jaume Plensa The Royal Scottish Academy, Edinburgh, Scotland
Jaume Plensa Galerie Carles Taché, Barcelona, Spain
Jaume Plensa Galeria Gentili, Firenze, Italy
1991
Jaume Plensa P. S. Galery, Tokyo, Japan
Monocroms Galería B.A.T., Madrid, Spain
Jaume Plensa Galerie Eric Franck, Geneve, Switzerland
1990
Dibuixos Galería Carles Taché, Barcelona, Spain
Jaume Plensa Eglise de Coumerlois-Silo Art Contemporain, Reims-Val-de-Velse, France
Jaume Plensa Galerie de France, Paris, France
1989
Jaume Plensa The Sharpe Gallery, New York, USA
Jaume Plensa Galerie Phillippe Guimiot, Bruxelles, Belgium
Jaume Plensa Galería Carles Taché, Barcelona, Spain
1988
Jaume Plensa The Sharpe Gallery, New York, USA
Jaume Plensa Galerie Philippe Guimiot, Bruxelles, Belgium
Jaume Plensa Musée d'Art Contemporain, Lyon, France
Jaume Plensa Galeria Rita García
1987
Jaume Plensa Galerie Philippe Guimiot, Bruxelles, Belgium
Jaume Plensa Halle Sud, Geneve, Switzerland
1986
Jaume Plensa Galerie Maeght, Barcelona, Spain
1985
Jaume Plensa Galeria Juana de Aizpuru, Madrid, Spain
Jaume Plensa Galerie Lola Gassin, Nice, France
1984
Jaume Plensa Galerie Axe Actuel, Toulouse, France
Jaume Plensa Galerie Folker Skulima, Berlin, Germany
1983
Jaume Plensa Galeira Ignacio de Lassaletta, Barcelona, Spain
1982
Llibre de vidre Galerie Eude, Barcelona, Spain
1981
Tres noms nous Galeria 13, Barcelona, Spain
1980
Jaume Plensa Fundació Joan Miró, Barcelona, Spain
2021
Common Borders Galerie Lelong & Co., Miami, Florida, USA
Glasstress. Window to the Future The State Hermitage Museum, Saint Petersburg, Russia
Artzuid – Sculpture Biennale of the Netherlands Amsterdam, Netherlands
New Prints and Editions Galerie Lelong & Co, New York
8th Socle du Monde Biennale – Welcome my friends to the show that never ends Herning, Denmark
New Sculpture Galerie Lelong & Co. New York (online)
Artists' Breath: Artists in the midst of the pandemic Ichihara Lakeside Museum, Japan
Body and Line Galerie Lelong & Co. New York / Melin Building, Miami, Florida, USA
RHE: Everything flows Galerie Lelong & Co. New York, USA
2020
Luxembourg Art Week Galerie Lelong & Co. in collaboration with the City of Luxembourg. Rond-point Robert Schuman, Luxembourg
Bijoux d'artistes, de Picasso a Koons. La collection idéale de Diane Venet. Cercle Cité, Ratskeller, Luxembourg
Art Front Selection 2020 autumn Art Front Gallery, Tokyo, Japan
Würth and the Outdoor Arts Campus Adolf Würth GmbH & Co. KG, Künzelsau, Germany
Field of Dreams Parrish Art Museum, Water Mill, New York, USA
De Miró a Barceló, Un siglo de Arte Español. Centro Pompidou, Málaga, Spain
Gray Collection, Pure Drawing The Art Institute of Chicago, Illinois / UC Berkeley Art Museum and Pacific Film Archive, Berkeley, California and The Morgan Library and Museum, New York, USA
Sculpture in the Courtyard The State Hermitage Museum, Saint Petersburg
Dreaming, 2017, Richmond Adelaide Centre, Toronto, Canada
2019
Arte Español a partir de la Colección Würth Museo Würth La Rioja, Agoncillo, La Rioja, Spain
Sculpture in the Courtyard Hermitage Museum, St. Petersburg, Russia
Colección Masaveu. Pintura española del siglo XIX de Goya al Modernismo Fundación María Cristina Masaveu Peterson, Madrid, Spain
ArtZuid 2019, Amsterdam Sculpture Biennial Amsterdam, Netherlands
Glasstress 2019 Collateral Event - 58th International Venice Biennale. Fundazione Berengo Art Space, Murano, Venice, Italy
Frieze Sculpture at Rockefeller Center Frieze New York, Rockefeller Center, in collaboration with The Noguchi Museum, New York, USA
From Head to Toe, Human Images in the Focus of the Würth Collection Forum Würth Rorschach, Switzerland
Jaume Plensa, Kiki Smith, Barthélémy Toguo Galerie Lelong & Co., Paris, France
2018
Dream, l'Arte Incontra i Sogni. Chiostro del Bramante, Rome, Italy
Beyond Borders, Un dialogue inspiré par la collection de la Banque européenne d'investissement Boghossian Foundation, Villa Empain, Brussels, Belgium
Detour. Artipelag, Gustavsberg, Sweden
Echigo-Tsumari, Art Field. Art Triennale 2018, Japan
Bijoux d'artistes, de Calder à Koons. La collection idéale de Diane Venet. Musée des Arts Décoratifs, Paris
2017
SOM: Engineering x (Art+Architecture). Mana Contemporary Chicago / Chicago Architecture Biennial, USA
In Situ 2017, Patrimoine et art contemporain. Abbaye de Fontfroide, Narbonne, France
Frieze Sculpture 2017. Regent's Park, London, UK
Glasstress 2017. Collateral Event 57th International Venice Biennale. Fundazione Berengo, Palazzo Franchetti Cavalli, Venice, Italy
Blickachsen 11. Contemporary Sculpture in Bad Homburg and Frankfurt Rhein Main, Germany
40, Celebrating 40 years of Art without walls. Yorkshire Sculpture Park, West Bretton, UK
2016
Sculpture in the City 2016 6th Edition. City of London, London, UK
Skulptur i Pilane 2016 Sältevo Gard. Klövedal, Sweden
Opening Ceremony of the new Jakobshallen Jakobshallen - Galerie Scheffel, Bad Homburg, Germany
140 Artist - 15 years Galleri Andersson, Umea, Sweden
4ème édition de la Biennale de sculpture Parc Caillebotte, Yerres, France
Public Art Installations at Harvard Business School Aldrich Lawn, Harvard Business School, Boston, Massachusetts, USA
Points de veu d'artistes Espace Science Actualités. Cité des Sciences et de l'Industrie, Paris
2015
Surrealism, the Conjured Life MCA - Museum of Contemporary Art. Chicago, USA
Van Hockney bis Holbein Die Sammlung Würth. Museum Würth / Berliner Festspiele. Berlin, Germany
Galerie Lelong Exposición en Valladolid. Sala de las Francesas / Sala de Museo de la Pasión. Valladolid, Spain
ArtZuid. International Sculpture Route Amsterdam
Clouds Fondations Cröy-Roeulx. Château du Roelux. Le Roeulx, Belgium
2014
Touch. Saastamoinen Foundation Collection EMMA - Espoo Museum of Modern Art, Helsinki
TRIO. Jaume Plensa, Kiki Smith, Barthélémy Toguo Galerie Lelong, Paris
Sculpture du Sud: une aventure méditerranéene Villa Datris - Fondation pour la Sculpture Contemporine, L'Isle-sur-la-Sorgue, France
Celebration of Music and Childhood. 100th Ravinia Music Festival Ravinia Park, Chicago
Symphony of Nature Scukptures comissioned for Double Cove, Hong Kong
Haver fet un lloc on els artistas tinguin dret a equivocar-se. Històries de l'Espai 10 i l'Espai 12 de la Fundació Miro Fundació Miró, Barcelona
Committed to Paper: Master Drawings and Prints by Sculptors
2013
The Sculpture Park. Frieze London / Frieze Masters London
Opere dalla Collezione Permanente CAMUSAC - Casino Museo d'Arte Contemporanea. Cassino, Italia
L'altro ritratto MART - Museo di arte moderna e contemporanea di Trento e Rovereto, Italy
Alfond Inn Rollins Collage, Winter Park, Florida
Beyond Limits, Sotheby's at Chatsworth Chatsworth House, Derbyshire, UK
Kunstprojekt Salzburg. Moderne Kunst auf alten Plätzen Salzburg Foundation, Salzburg
Art, dos punts. Barcelona viu l'Art Contemporani Museu d'Art Cotnemporani de Barcelona and Caixa Forum, Barcelona
Skulpturenpark Waldfrieden Wuppertal, Germany
Blickaschen 9, Contemporary Sculpture in Bad Homburg and Frankfurt Rhein Main Germany
Spanish Modern & Contemporary Art Exhibition Seongnam Cultural Foundation, Korea
2012
Decade. Contemporary Collecting 2002 - 2012 Albrigh-Knox Art Gallery. Buffalo, New York, USA
Jing'an International Sculpture Project Shanghai, China
Muse: Exploring Inspiration Richard Gray Gallery, Chicago, USA
From Head to Toe, Human Images in the Focus of the Würth Collection Kunsthalle Würth, Schwäbisch, Germany
Oir Rio. Other Ideas for Rio Oir.Art.Br. Rio de Janeiro, Brazil
Moderne Kunst im Dom. Zun 1000-jähringen Domjubiläum Bamberg, Germany
Water and Land Niigata Art Festival Niigata, Japan
Skulptur at Pilane Sältevo, Klövedal, Sweden
Kiev Sculpture Project 2012 Kiev, Hungary
Art as Magic: Visionary artists and their internal world Aichi Prefectural Museum of Art, Nagoya, Japan
Beaufort04 Triennial Contemporary Art by the Sea, Belgium
Bodhi Gazelli Art House, London, UK
Glasstress New York: New Art from the Venice Biennale Museum of Arts and Design New York, New York, USA
Mixed Media. New Sculpture Haunch of Venison, London, UK
Glasstress, New York Museum of Arts and Design - MAD, New York, USA
2011
Glasstress - La Biennale di Venezia. Instituto Veneto di Science Lettere ed Arti Palazzo Cavalli Franchetti, Campo Santo Stefano, Venice, Italy
Picasso to Koons. The Artist as Jeweler Museum of Art and Design, New York, USA
Within / Beyond Borders: European Investment Bank Collection Byzantine and Christian Museum, Athens, Greece
The Last Freedom. From the Pioneers of Land-Art of the 1960's to the Cyberspace Ludwig Museum, Koblenz, Germany
Glasstress 2011 Instituto Veneto. Palazzo Cavali Franchetti. 54 Biennale di Venezia, Venice, Italy
Art on Lake Museum of Fine Arts. Budapest, Hungary
Freibeuter der Utopie Weserburg / Museum für moderne Kunst, Bremen, Germany
Artzuid 2011 International Sculpture Route amsterdam, Amsterdam, Holland
Ombres et lumières. Dessins et ouvres du fonds régional d'art contemporain de Picardie Galerie Nationale de la Tapisserie, Beauvais, France
2010
L'océan. Visions d'artistes du 19º au 21º siecle Belleveu, Biarritz, France
The Fifth Genre. Considering the Contemporary Still Life Galerie Lelong New York, USA
Fiax Lux Museo de Arte Contemporáneo MACUF, A Coruña, Spain
Sculptors celebrate the legacy of Fred and Ilena Meijer Frederik Meijer Gardens & Sculpture Park, Grand Rapids, USA
Arts Towada Towada, Japan
Disquieted Portland Art Museum, Portland, Oregon, USA
2009
We Vancouver Biennale, Vancouver, Canada
Corpo Automi Robot Museo d'Art de Lugano. Villa Malpensata e Villa Ciani, Lugano, Italy
Conflicting Tales: Subjectivity (Quadrilogy, Part 1) The Burger Collection, Berlin, Germany
Sculpture at Pilane 2009 Tjörn, Sweden
Art Albertina Albertina Museum, Vienna, Italy
Beyond Limits, Sotheby's at Chatworth Chatsworth House, Derbyshire, UK
Unconditional Love Arsenale Novissimo, 52 Biennale di Venezia, Venice, Italy
Blickaschen 7 Kurpark and Schlosspark, Bad Homburg, Germany
La escultura en la colección del IVAM IVAM - Institut Valencià d'Art Modern, Valencia, Spain
Transparency Open Air Light Art During the EU Presidency of the Czech Republic, Prague, Czech Republic
2008
Beyond Limits. Sotheby's at Chatsworth Chatsworth House, Derbyshire, UK
Shaping a Space II Galeria Mário Sequeira, Braga, Portugal
A Year in Drawing Galerie Lelong New York, New York, USA
World of Glass Museum Kunst Palast, Dusseldorf
España, Arte Spagnola 1957 - 2007 Palazzo Sant'Elia, Palermo, Italy
Digitale Raumkunst / Digital Artspace Stiftung Wilhelm Lehmbruck Museum - Zentrum Internationaler Skulptur, Duisburg, Germany
2007
Figura humana y abstracción, esculturas de los siglos XX y XXI. Colección Würth Alemania y España Museo Würth La Rioja, Logroño, Spain
Dialogues Méditerranéens La Citadelle, Saint Tropez
Barcelona 1947 - 2007 Fondation Marguerite et Aimé Maeght, Saint-Paul-de-Vence, France
Sculpture Biennale Kijkduin 2007 International Glass & Sculpture Exposition, Kijkduin, The Hague, Holland
La Palabra Imaginada Museo de Arte Contempòráneo Esteban Vicente, Segovia, Spain
Entre la palavra e a imagem Museo da Cidade, Lisbon / Centro Cultural Vila Flor, Guimaraes, Portugal
Monumental, Sotheby's at Isleworth Windermere, Florida, USA
2006
Eye in Europe. Prints, Books & Multiples . 1960 to now MoMA, New York, USA
Beyond Limits, Sotheby's at Chatsworth Chatsworth House, Derbyshire, UK
Femmes d'Europe La Citadelle, Saint Tropez
Picasso to Plensa Salvador Dalí Museum, Saint Petersburg, Florida, USA
Homenaje a Chillida Guggenheim de Bilbao, Bilbao, Spain
Full House - Faces of a Collection Kunsthalle Mannheim, Mannheim, Germany
Snow Show Sestriere, Turin, Italy
Dormir, rêver...et autres nuits Musée d'art contemporain, Bordeaux, France
2005
Picasso to Plensa The Albuquerque Museum, Albuquerque, USA
Broken Glass Glaspaleis, Stadsgalerij Heerlin, Harlem, Holland
81st Exhibition of Artist Members The Arts Club of Chicago, Chicago, USA
Dual, Transitos y entrecruzamientos para la Historia del Arte Centre d'Art la Panera, Lleida, Spain
Modern Times Mönchehaus Museum, Goslar, Germany
Lenuajes y Sentidos Colección Caja de Burgos, Sala de Exposiciones del Museo de la Pasión, Valladolid, SPain
2004
Diversité des langues de l'Europe, Hommage aux vignt langues de l'Europe (8 November) Ministère de la Culture et de la Communication, Facades du Palais Royal, Paris, France
Festival arbres & lumières Association Festival Arbres & Lumières, Geneva, Italy
Outside In, Sculpture in the Natural World Frederik Meijer Gardens and Sculpture Park, Grand Rapids, Michigan, USA
A light crescendo, Art Illuminating St. Mary's, York Museum, York, UK
La création contemporiane à la Manufacture nationale de Sèvres Maison René Char-Hôtel Donadeï de Campredon, L'Isle-sur-la-Sorgue, France
A light crescendo, Art Illuminating St. Mary's, York Museum, York, UK
La création contemporaine à la Manufacture nationale de Sèvres Maison René Char-Hôtel Donadeï de Campredon, L'Isle-sur-la-Sorgue, France
2003
Indisciplinadas Museo de Arte Contemporánea, Vigo, Spain
Punto de encuentro La Colección (1) Centro de arte Caja de Burgos, Burgos, Spain
Pintar Palabras... Instituto Cervantes, Berlin, Germany / New York, USA
Memoria de un recorrido Colección Caja de Burgos, Círculo de Bellas Artes, Madrid, Spain
Territoires nomads Ruart Espace d'Arts, Rouillé, France
2002
Jaume Plensa - Fabrizio Corneli Villa Carducci - Pandoflini, Chiostro di Villa Vogel, Centro per l'Arte Cotnemporanea Luigi Pecci, Florence, Italy
Avesta Art 2002 Avesta, Sweden
DAK'ART 2002 Biennale de Dakar, Senegal
Leuchtspur. Koordinationsstelle für kulturelle Sonderprojekte Kulturmeile Frankfurt, Frankfurt, Germany
Conceptes de l'espai Fundació Joan Miró, Barcelona, Spain
2001
50 Ans de Sculpture Espagnole Jardins du Palais Royal, Paris, France / Parque del Retiro, Madrid, Spain
Bienal de Valencia, Cuerpo y Pecado Convento del Carmen, Valencia, Spain
Milano-Europa 2000, I semi del Futuro Palazzo della Triennale, Milan, Italy
2000
Seven Hills, Images and Signs of the 21st Century Martin Gropius Bau, Berlin, Germany
Echigo - Tsumari Art Triennial 2000 Echigo - Tsumari, Japan
Faith The Aldrich Museum of Contemporary Art, Ridgefield, USA
1999
La casa, il corpo, il cuore Museum Moderner Kunst Stiftung Ludwig, Vienna, Austria
Museum of Contemporary Art Sarajevo - Collection 1994-1997 Skenderija Center, Sarajevo
1998
10 - Intensity in Europe Centre per l'Arte Contempoanea Luigi Pecci, Prato, Italy
Artranspennine98 Yorkshire Sculpture Park, The Henry Moore Sculpture Trust, Leeds and Tate Gallery, Liverpool, UK
1997
Descoberta de la Col·lecció MACBA - Museu d'Art Contemporani de Barcelona, Barcelona, Spain
Aeropagitica, 28 freie seiten G.A.M.E.S of Art, Mönchengladbach, Germany
1996
Abstrakt Real Museum Moderner Kunst Stiftung Ludwig, Vienna, Austria
2019
HONORARY ACADEMICIAN OF THE RUSSIAN ACADEMY OF ARTS Moscow, Russia
GUARDÓ PAU CASALS Pau Casals Foundation and Generalitat de Catalunya, Barcelona, Spain
HONORED AT THE HIRSHHORN NEW YORK GALA: ARTIST x ARTIST Lincoln Center, New York, USA
2018
AWARDED HONORARY DOCTORATE OF THE UNIVERSITAT AUTÒNOMA DE BARCELONA Barcelona, Spain
2017
THE TEN-YEAR AWARD TO THE CROWN FOUNTAIN FOR EXCELLENCE IN ARCHITECTURE 2017 AIA Chicago, A Chapter of The American Institute of Architects, Chicago, IL, USA
2016
CAMBIO16 AWARDS Cambio16 Magazine, Madrid, Spain
HONORARY MEMBER University Council of the Arts, University of Alcalá – UAH, Alcalá de Henares, Spain
2015
GLOBAL FINE ART AWARDS; BEST PUBLIC OUTDOOR INSTALLATION Freedom Tower, Miami Dade College, Miami Beach, Florida, USA
PREMI ATLÀNTIDA Publishers Guild of Catalunya, Convent dels Àngels, Barcelona, Spain
ACADÈMIC D'HONOR DE LA REIAL ACADÈMIA DE BELLES ARTS DE SANT JORDI Catalan Royal Academy of Fine Arts Sant Jordi, Barcelona, Spain
2014
CIUTAT DE BARCELONA AWARDS Barcelona Council, Barcelona, Spain
TOMÁS FRANCISCO PRIETO PRIZE. XXV Edition Royal Spanish Mint / National Coinage and Stamp Factory, Madrid, Spain
2013
VELAZQUEZ AWARD FOR PLASTIC ARTS Ministry of Education and Culture, Madrid, Spain
ISERLOHNER KUNSTPREIS Villa Wessel, Iserlohn, Germany
NATIONAL AWARD FOR GRAPHIC ARTS National Chalcography, Madrid, Spain
2012
NATIONAL AWARD FOR PLASTIC ARTS Ministry of Education and Culture, Madrid, Spain
5 PREMIS TENDÈNCIES. EL MUNDO DE CATALUNYA Best Consolidated Creator, Barcelona, Spain
CREU DE SANT JORDI Generalitat of Catalunya, Barcelona, Spain
2011
PREMI GAC 2011 Association of Catalonian Galleries Award, Barcelona, Spain
2010
BEST PUBLISHED BOOK ON 2009 - BIBLIOPHILY STATUS Ministry of Culture, General Direction for books, archives and libraries, Madrid, Spain
CIVIC TRUST AWARDS Liverpool, UK
2009
THE 2009 MARSH AWARD FOR PUBLIC SCULPTURE London, UK
PRECAST CONCRETE SOCIETY SPECIAL CREATIVITY AWARD London, UK
2007
HEITLAND FOUNDATION PRIZE Celle, Germany
2006
THE BOMBAY SAPPHIRE PRIZE / ANNUAL INTERNATIONAL AWARD FOR GLASS WORK The Bombay Sapphire Foundation, London, UK
2005
AWARDED HONORARY DOCTORATE OF THE SCHOOL OF THE ART INSTITUTE OF CHICAGO Chicago, Illinois, USA
2003
VILLA DE MADRID SCULPTURE AWARD Madrid, Spain
1999
GOLD MEDAL OF PRAGUE QUADRENNIAL FOR STAGE DESIGN AND THEATRE ARCHITECTURE Prague, Czech
1998
KOINÉ'83 AWARD Milan / Honorific exhibition at the Palazzo Forti, Verona, Italy
1997
NATIONAL ART AWARD OF CATALONIA Barcelona, Spain
1996
ALEXANDER CALDER FOUNDATION Sache, France
1993
AWARDED CHEVALIER DES ARTS ET LETTRES Ministry of Culture, Paris, France