Antoni Miralda

Antoni Miralda born in 1942 in Terrassa, Spain.
Lives and work between Barcelona and Miami. Antoni Miralda is a multidisciplinary artist and perhaps he is the most versatile, witty and brilliant artist of the Spanish avant-garde of the past 40 years. In 1971, he moved to New York, and since then, he has been working with the public and participatory space in the United States and Europe. His projects stem from research and are developed over long periods of time. To complete them, he requires assistance of large groups of collaborators, as well as the cooperation of the viewer. In the mid 90's, based on the concept of food as culture, he created the FoodCulturaMuseum, a project that has a long history of different activities and exhibitions. In 1984 Miralda and Montse Guillén, create the renowned restaurant El International Tapas Bar & Restaurant in TriBeCa in New York. In 1990, Miralda presents in the Spanish Pavilion of the Venice Biennale the trousseau and wedding banns of the Honeymoon Porject, in 2000, titled De gustibus non disputandum, presented in The Velásquez Palace in Madrid with and extensive retrospective organized by the Reina Sofía Museum. 
His public events have taken place in several cities such as Paris, New York, Kassel, Miami, Kansas City, Las Vegas, Barcelona, among others, and he has exposed in the Contemporary Art Institute of London, in Contemporary Art Museum of Texas, el Nelson-Atkins Museum of Art de Missouri, The Joan Miró foundation and in the Palau de la Virreina, Barcelona, the IVAM of Valencia, the Miami Art Museum, and The Museum of Modern Art in Buenos Aires, among others. In November of 2018 Miralda was awarded with the Premio Velázquez de Artes Plásticas recognized by Ministerio de Cultura y Deporte.
2022
Fotografies

La Virreina Centre de la Imatge, Barcelona, Spain

2019
Unpacking the Archive: Antoni Miralda

Henrique Faria Fine Art, NYC, USA

Peccata Mundi

MNAC - Museu Nacional d'Art de Catalunya

2018
Miralda - Three Projects (NYC- Mia- BCN)

Galeria SENDA, Barcelona, Spain

Miralda: The Maggic Banquet

Exile Books, Miami, US

2017
Miralda Madeinusa

Azkuna Zentroa - Alhondiga Bilbao, Spain

La Santa Comida

Museo de Reproducciones Artísticas de Bilbao, Spain

Camins encontrats - Miralda. Obras 1977 y 2015

Fundació Suñol, Barcelona, Spain

2016
BOUM ! BOUM! En avant la musique!

festival de audiovisuales LOOP Barcelona

"The Last Carnival Cruise"

feria de video arte LOOP Barcelona

Miralda Made In Usa,

MACBA, Barcelona, Spain

2015
El viaje del sabor

Pabellón España, EXPO Milano

What you want is what you get

Moisés Pérez de Albéniz, Madrid, Spain

2013
La Incidencia de lo culinario en la producción artística

Galería Metropolitana, Santiago, Chile

Sabores gemelos - Lenguas gemelas

Consulado General de España - Biblioteca Miguel de Cervantes de Shanghái, China

Twin

Museu d'Art Contemporani de Barcelona (MACBA)

2012
Miralda. Black Dresden Tongue

Raiña Lupa Ediciones, Barcelona

Altar Ego

Bòlit, Centre d'Art Contemporani, Girona

2011
La pomme de terre

Fundació Miró Mallorca

2010
Miralda. De gustibus non disputandum

Museo Nacional de Arte Reina Sofía, Madrid, Spain

2009
Power Food

Es Baluard, Palma de Mallorca, Spain

Miralda. Tabú

Moisés Pérez de Albéniz, Madrid

2008
Power Food

Artium, Vitoria, Spain

Oda a la Papa

Lima, Peru

2007
Sabores y Lenguas: Montevideo

CCE, Montevideo, Argentina

Sabores y Lenguas: Buenos Aires

Museo de Arte Moderno de Buenos Aires, Argentina

2006

IX Bienal de La Habana, Cuba

XXVII Bienal de São Paulo, Brazil

2005
Sabores y Lenguas: Lima

CCE, Lima, Peru

Sabores y Lenguas: Bogotá

Bogotá, Colombia

Sabores y Lenguas: México

CCE, México

2004
Sabores y Lenguas: Caracas

Museo de Bellas Artes, Caracas, Venezuela

La Núvia dels Ous

Palma XII Gallery, Vilafranca del Penedès, Barcelona, Spain

2003
PANlingua

Centro Cultural Conde Duque / MediaLabMadrid, Madrid, Spain

2002

Galeria SENDA, Barcelona, Spain

Camilla Hamm Gallery, Barcelona, Spain

Sabores y Lenguas: 15 Platos Capitales

Fundación ICO, Madrid, Spain

Home Tender Home. Aluminiun by Design: Jewelry to Jets

Wolfsonian-FIU, Miami, USA

2001
Sign of Good Taste Collections Selection: Food Culture Museum

COPIA, Napa, USA

Happy Hour Moveable Mixer

Local Time, St.Johann Quartier, Basel, Switzerland

2000
Food Pavilion

EXPO 2000, Hannover, Germany

1998
Grandma's Recipes

Miami Art Museum, Miami, USA

1997
Big Fish Mayaimi

Miami, USA

Galerie de France, Paris, France

1996
La torre dels Plats

MACBA, Barcelona, Spain

1995
Miralda, Process 1965 – 1995

Palau de la Virreina, Barcelona, Spain

Miralda Works 1965 – 1995

Centre Cultural Fundació "La Caixa", Barcelona, Spain

IVAM, Valencia, Spain

1994
ME-NUS

Centre Cultural Sa Nostra, Islas Baleares, Spain

1992
Wedding Ceremony

Red Rock Canyon, Las Vegas, USA

Falla aquàtica

XXV Olympic Games, Barcelona, Spain

1991
The Eternity Ring

Ikon Gallery, Birmingham, UK

Edible Belt

Holly Solomon Gallery, New York, USA

Wedding Gown

World Financial Center, Winter Garden, New York, USA

1990
Liberty Belle Cape

Philadelphia Museum of Art, Philadelphia, USA

Honeymoon Project

Spanish Pavilion

44 Venice Bienal, Venice, Italy

1989
Gâteau Monument

Place du Trocadero, Paris, France

Apocalypse Lamb

Columbus Date Parade, Fifth Avenue, New York, USA

Seibu Gallery, Tokyo, Japan

1988
Prenúpcies

Fundació Joan Miró, Barcelona, Spain

1987
Aixovar-Ajuar-Trousseau

Sala Moncunill, Terrasa, Spain

1986
Engagement Ceremony

Jacob K. Javits Convention Center, New York, USA

1984
El Internacional

New York, USA

Santa Comida

Museo del Barrio, New York, USA

1983
Dressing Tables

Willi Wear Showroom, New York, USA

1982
Domestic

Coral Castle, New World Festival of Arts, Miami, USA

1981
Wheat & Steak

Nelson Atkins Museum of Art / Board of Trade, Kansas City, USA

Thanksgiving for the Animals

Bronx Zoo, New York, USA

1980
Mona a Barcelona

Joan Prats Gallery, Barcelona, Spain

1979
Piedesthalles

Forum des Halles, Paris, France

Charlie Taste Point

Galerie in der Friedrichstrasse 31 and Hotel Mike Steiner, Berlin, Germany

1978
A la taula i al llit, al primer crit

Internacional Cultureel Centrum, Antwerpen, Belgium

Coca-Cola-Polenta. Venerezia-Revenice

Grassi Palace, Venice, Italy

1977
Fest für Leda

Documenta 6, Kassel, Germany

Breadline

Contemporary Arts Museum, Houston, Texas, USA

Labor Day Festa

Artpark, New York, USA

1976
Merenga

Hotel Orient, Barcelona, Spain

Red Die No. 2

Fine Arts Building, New York, USA

1975
Cenotaphes

Noir Gallery and Cultural Centre Villeparisis, France

1974
Movable Feast

Ninth Avenue International Festival, New York, USA

Pecanins Gallery, México D.F., México

1973
John Kaldor Project

Kaldor Showroom & Art Gallery of New South Wales, Sydney, Australia

The Seattle Banquet

Henry Art Gallery, Seattle, Washington, USA

Performance

International Design Conference, Aspen, Colorado, USA

1972
Edible Landscape

Museum of Art Contemporary Crafts, New York, USA

1971

Naviglio Gallery, Milan, Italy

Richard Gray Gallery, Chicago, USA

Miralda / Selz. Traiteurs Coloristes

Eat Art Gallery, Düsseldorf, Germany

Four Colors Ritual

VII Bienal de Paris, CNAC, Paris, France

1970
Miralda / Selz. Traiteurs Coloristes

Claude Givaudan Gallery, Paris, France

Fête en Blanc

Verderonne, Oise, France

1969

Aronowitsch Gallery, Stockholm, Sweden

1967
Soldats soldés

Zunini Gallery, Paris, France

1966
Drawings 65

Institute of Contemporary Arts, London, UK
2022
Llum BCN - Festival d'Arts Lumíniques

Barcelona, Spain

Pan y Circo

Sala Amos Salvador, La Rioja, Spain

2021
En tres actos. Acto 3. Veinte rostros y tres multitudes

Fundació Suñol, Barcelona

Cien por setenta

Moisés Pérez de Albéniz, Madrid

FOOD. La utopia de la proximitat

Bòlit, Centre d'Art Contemporani, Girona

2020
Amuse-bouche. The Taste of Art

Museum Tinguely, Basel, Switzerland

Tedium

Exposición online

2019
FACES. A dialogue between the Es Baluard Collection and the BEEP Electronic Art Collection

Es Baluard Museu d'Art Modern, Palma de Mallorca, Spain

M&M

Palmadotze Galeria d'Art, Els Monjos, Barcelona

O-brim! Jornadas inaugurales y puertas abiertas

Fundació Suñol, Barcelona

Interferencias

Centro Dados Negros - Centro Holografía y Artes, Ciudad Real, Spain

Els Catalans de Paris

Galería Richard Vanderaa, Girona

2018
Presentation during 4yh Barcelona Gallery Weekend 2018

Galeria Senda, Barcelona, Spain

The World's Game: Fútbol and Contemporary Art

Perez Art Museum Miami - PAMM, Miami, FL, United States

Mixed technique on paper

Galeria Richard Vanderaa, Girona, Spain

Elèctric i llunyà. Fotografía contemporánea colección olorVISUAL

Centre d'Art Tecla Sala, L´Hospitalet, Spain

Aplicación Murillo: Materialismo, Charitas, Populismo

Centro de Iniciativas Culturales de la Universidad de Sevilla - CICUS, Spain

A Short Century: MACBA Collection

Museu d'Art Contemporani de Barcelona (MACBA) - Convent dels Ángels, Barcelona, Spain

Apropriações, Variações e Neopalimpsestos

Fundação Vera Chaves Barcellos (FVCB), Porto Alegre, Brasil

Pop Up Claudia Arbulu Gallery

Espacio Montesa, Madrid

Col·lecció Pilar Citoler - 40 estius a Pollença

Museo de Pollença, Mallorca, Spain

El pulso del cuerpo. Usos y representaciones del espacio

Fundació Per Amor a l'Art, Valencia

Técnica mixta sobre paper

Galería Richard Vanderaa, Girona

2017
Collectionner, le désir inachevé

Musée des Beaux-arts d'Angers, Angers, France

Eat Me!

Trapholt, Kolding, Denmark

Visiones de Berlín

Galeria SENDA, Barcelona, Spain

Loop Festival 2017

Loop Festival, Barcelona, Spain

Hors Pistes 2017: Traversées

Centre Pompidou, Paris, France

Exposición de lanzamiento de Claudia Arbulu Gallery

Claudia Arbulu Gallery, Madrid

57ª Bienal de Venecia

Bienal de Venecia

2016
Antoni Miralda & Benet Rossell - Boum! Boum! En avant la musique!

Galerie Krinzinger, Vienna, Austria

Colección permanente. Carte Blanche a Isaki Lacuesta

Es Baluard Museu d'Art Modern, Palma de Mallorca, Spain

Loop Festival 2016

Loop Festival, Barcelona, Spain

El penúltim sopar

Palma Dotze, Barcelona, Spain

Tide by Side

Faena Forum Miami Beach

Més enllà del Dau al Set

Galería JECSALIS, Sant Feliu de Guíxols, Girona

Boum! Boum!

Hotel Yurbban Trafalgar, Barcelona

2015
Colección Permanente

Es Baluard Museu d'Art Modern, Palma de Mallorca, Spain

La trampa en la sonrisa. Colección Artium / The Trick in the Smile. Artium Collection

ARTIUM - Basque Museum Center of Contemporary Art, Vitoria-Gasteiz, Spain

Tensão E Liberdade - Tension And Freedom

Centro de Arte Moderna - CAM - Fundação Calouste Gulbenkian, Lisbon, Portugal

Grill-Art

Kunst Raum Riehen, Basel, Switzerland

Pabellón de España - Expo Milano 2015

Milan, Italy

2014
Confessions Of The Imperfect - 1848 – 1989 – Today,

Stedelijk Van Abbemuseum, Eindhoven, Netherlands

Food,

Museum of European and Mediterranean Civilisations, Marseille, France

Nonument,

MACBA, Barcelona, Spain

Magiciens de la terre, retour sur une exposition légendaire,

Centre Pompidou, Paris, France

Die B Seiten der Geschichte der Spanischen Videokunst,

Botschaft von Spanien, Berlin, Germany

A Inusitada,

Museu de Arte de São Paulo Assis Chateaubriand (MASP), São Paulo, Brazil

Faces B de l'histoire de l'art vidéo en Espagne

Aula Cervantes Dakar, Dakar, Senegal

Presència de Galeria Joan Prats

Galeria Joan Prats, Barcelona, Spain

Joan Miró's Printmaking Workshops

Bratislava City Gallery - Mirbach Palace, Bratislava, Slovakia

2013
Mínima resistencia

Museo Nacional Centro de Arte Reina Sofía, Madrid, Spain

Tesoro público. Colección Artium

ARTIUM - Basque Museum Center of Contemporary Art, Vitoria-Gasteiz, Spain

B.A.B.E - The Best Artists Books and Editors

Immanence, espace d'art contemporain, Paris, France

1813. Asedio, incendio y reconstrucción de San Sebastián

Museo San TelmoSan Sebastián, Spain

Loop selection I

Casal Solleric, Palma de Mallorca, Spain

2012
B Sides of the History of Video Art in Spain

Kino SvětozorPragueCzech Republic

De Paso en la Tierra

Circus, Centro de Iniciativas Culturales de la Universidad de Sevilla, Sevilla, Spain

Ænvers Girona_intangible Maps

Bòlit - Centre d'Art Contemporani, Girona, Spain

Collection V. Ca2m Fund Selection

CA2M, Centro de Arte Dos de Mayo, Madrid, Spain

2011
Alimón

Trinta Arte Contemporánea, Santiago de Compostella, Spain

Figuras de la Exclusión

Patio Herreriano, Museo de Arte contemporáneo Español, Valladolid, Spain

Caras B de la Historia del video arte en España

Instituto Cervantes, Chippendale, NSW, Australia

Vis A Vis

Es Baluard Museu d'Art Modern, Palma de Mallorca, Spain

B sides of the Spanish videoart, Seoul 2011

EXiS, Seoul, South Korea

Thai Short Film & Video Festival 2011: B Sides of the History of Video Art in Spain

Thai Short Film & Video Festival, Bangkok, Thailand

You are not alone

Fundación Joan Miró, Barcelona, Spain

Sculpere-esculpir

Museo de la Solidaridad Salvador Allende, Santiago, Chile

Colección III

CA2M, Centro de Arte Dos de Mayo, Madrid, Spain

2010
Raíña Lupa Paris 1994

Raíña Lupa, Barcelona, Spain

Artpark: 1974 - 1984

UB Art Galleries - University of BuffaloBuffalo, NYUnited States

EAT ART. Vom Essen in der Kunst,

Kunstmuseum Stuttgart, Stuttgart, Germany

Miralda, Rabascall,

Raíña Lupa, Barcelona, Spain

20 years: the collection

Palma Dotze, Vilafranca del Penedés, Spain

Signes i Escriptures

Fundació Suñol, Barcelona, Spain

Coquillages et crustacés

Musée des Beaux-Arts Brest, Brest, France

Eating the Universe - Vom Essen in der Kunst

TAXISPALAIS Kunsthalle Tirol, Innsbruck, Austria

2009
Eating the Universe. Vom Essen in der Kunst,

Kunsthalle Düsseldorf, Dusseldorf, Germany

Der diskrete Charme der Technologie. Kunst in Spanien

Universalmuseum Joanneum, Graz, Austria

Il·luminacions. Catalunya Visionària,

CCCB, Barcelona, Spain

On the Margins of Art. Creation and Political Engagement

MACBA, Barcelona, Spain

Tiempo como materia

MACBA, Barcelona, Spain

Is it a bicycle? El arte como vehículo,

Galería Edurne, Madrid, Spain

Autres Mesures,

Centre photographique d'Ile-de-France, Pontault Combault, France

2007
Teatre sense teatre

MACBA, Barcelona, Spain

Gambes on wheels

Moritz, Girona / Barcelona, Spain

2005
Desacuerdos

MACBA, Barcelona, Spain

El arte sucede (1965-1980)

Museo Nacional Centro de Arte Reina Sofía, Madrid, Spain

2004
Nepotism

Museum of Art, Fort Lauderdale, Florida, USA

Hors d'Oeuvre

CAPCMuseé d'Art Contemporain, Bourdeaux, France

2003
Spanish fly

Roger Smith Gallery, New York, USA

TransEAT

Miami/ArtBasel, TransEat, Miami, USA

La Vaixella Imaginària

FoodCulturaMuseum, Barcelona, Spain

2002
Sabores y Lenguas: 13 Ciudades

Centro Cultural Español, Miami, USA

Comer o no Comer

Salamanca 2002, Salamanca, Spain

2001
Bienal de Valencia

Valencia, Spain

Meeting Point

Barcelona Art Report 2001, Palau de la Virreina, Barcelona

Egg Dream Museum

Hieronymus Bosch, Boijmans Museum, Rotterdam, the Netherlands

1998
Diseño Industrial en España

Museo Nacional Centro de Arte Reina Sofía, Madrid, Spain

Les recettes de grand-mère

La Biennale de Montréal, Canada

1997

5th International Istambul Biennial, Istambul, Turkey

1995
L'Art Romànic

Museu Nacional d'Art de Catalunya, Barcelona, Spain

1993

40th Arts Festival of Atlanta, Atlanta, USA

Monumental Propaganda

World Financial Center, New York, USA

1992
Fars

Centre Cultural Sa Nostra, Palma de Mallorca, Spain

1989
Santa Comida. Magiciens de la Terre

Centre Georges Pompidou and La Villette, Paris, France

1987
Immigrants and Refugees, Heroes or Villains

Exit Art Gallery, New York, USA

1986
Barcelona-Filipinas. Le Gorile Blanc

Centre Regional d'Art Contemporain, Toulouse, France

1985
Barcelona, París, Nova York: el camí dels dotze artistes catalans, 1960-1980

Palau Robert, Barcelona, Spain

1984
Collision: The Seven of Tables

Lawndale Alternative, University of Houston, Texas, USA

1983

XVII Biennal de São Paulo, São Paulo, Brazil

1980
Zeichen und Mythen

Kunstverein, Bonn, Germany

1978
Private Icon

The Bronx Museum of the Arts, New York, USA

1977
Trois Musées: Marseille, Lyon, Grenoble

Centre Georges Pompidou, Paris, France

1976
Inagural Installations

P.S.1., Queens, New York, USA

1975
Vogel Collection

Institute of Contemporary Arts, Philadelphia, USA

1973
La Venus du Nilo

Palais de Beaux-Arts, Bruxelles, Belgium

Tenth New York Avant-garde Festival

Grand Central Station, New York, USA

1972
Omnium des Arts

Jouy-en-Josas, France

Bread Show

Deson Zaks Gallery, Chicago, USA

1971
Peintures et objects 71

Galliera Museum, Paris, France Kunstzone, Münich, Germany

1970
 Table

Pavillon Marsan, Palais du Louvre, Paris, France

Itineraires Blanc

Musée d'Art et d'Industrie, Saint-Étienne, France

1969
Salon de Mai

Musée d'Art Moderne, Paris, France

VI Biennale de Paris,Galliera Museum, Paris, France

Portrait d'un chef d'oeuvre

Creuzevault Gallery, Paris, France

Distances

Musée d'Art Moderne, Paris, France

1968
The Obsessive Image

Institute of Contemporary Arts, London, UK

Occupation des Lieux

American Center, Paris, France

1967

V Biennale de Paris, Musée d'Art Moderne de la Ville de Paris, France

SuperLund

Lunds Konsthal, Lund, Sweden

1966
Salon de la Jeune Peinture

Musée d'Art Moderne, Paris, France

1965
Frottages

New Art Center, London, UK

1964
Contemporary Drawings and Watercolors

New Art Center, London, UK
2019
Premio al artista consolidado por la mejor exposición en galería

Premios GAC 2019 – XII Noche del Galerismo

2018
Pemio Velázquez de Artes Plásticas
2015
Premio Fundación Arte y Mecenazgo, Categoría Artista
Museu d'Art Contemporani de Barcelona (MACBA)

Barcelona, Spain

Patio Herreriano - Museo de Arte Contemporáneo Español

Valladolid, Spain

Art Gallery of New South Wales

Sydney, NSW, Australia

Museo Nacional Centro de Arte Reina Sofía

Madrid, Spain

FRAC Limousin

Limoges, France

Ca'la Ghironda - Museo d´Arte Classica, Moderna e Contemporanea

Zola Predosa, BO, Italia
La Contra de la Vanguardia, "Me alimento del mundo", 2018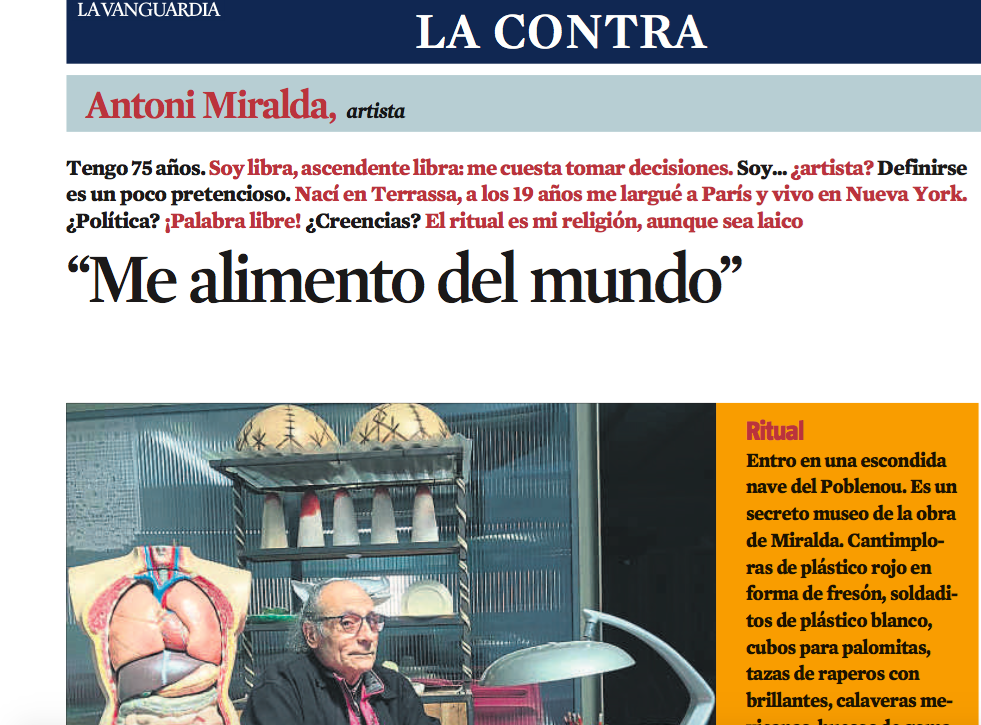 La Vanguardia, Un traje de luces para 175 años de historia, 2018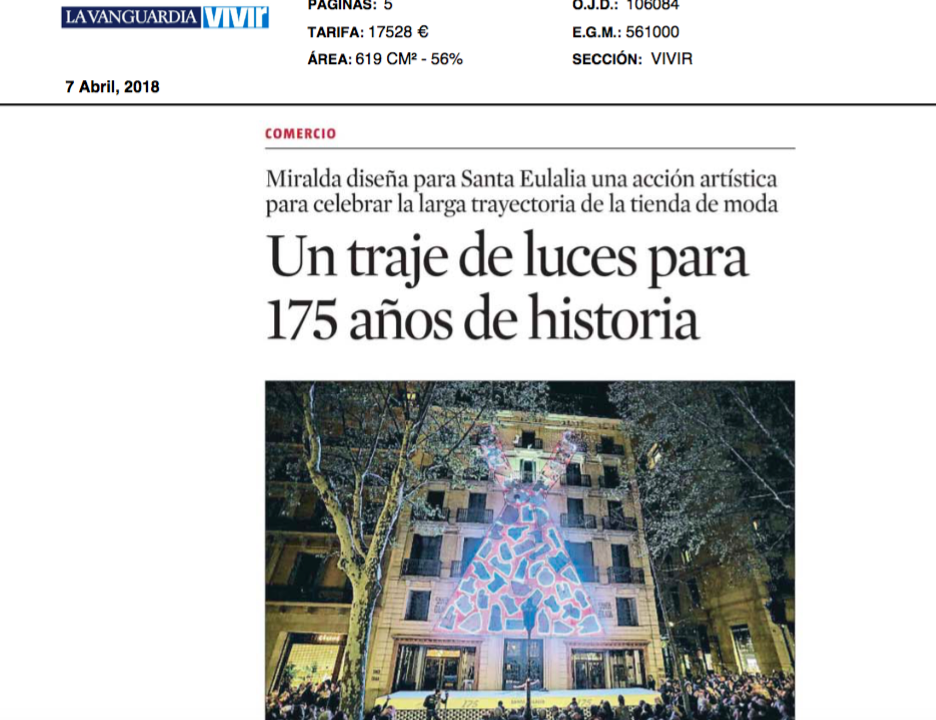 Papel cultura, procesión-desfile ideada por Antoni Miralda que ayer cruzó el centro de la ciudad, 2018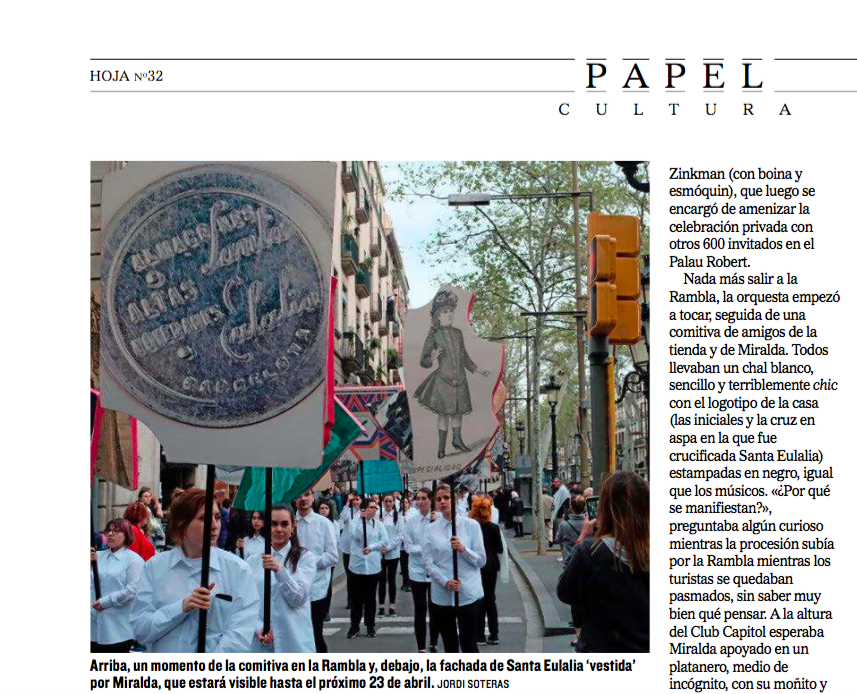 El País, Miralda hace brillar los 175 años de la histórica tienda Santa Eulalia, 2018